Nick and Charlotte sold their home in Clapton when they moved to Wales with their young family.
Tell us a little about your old home, where was it and when did you buy it?
It was a 3 bedroom terraced house in Clapton in Hackney. We bought it in February 2012, we had been living in Stoke Newington and we wanted to stay in the area.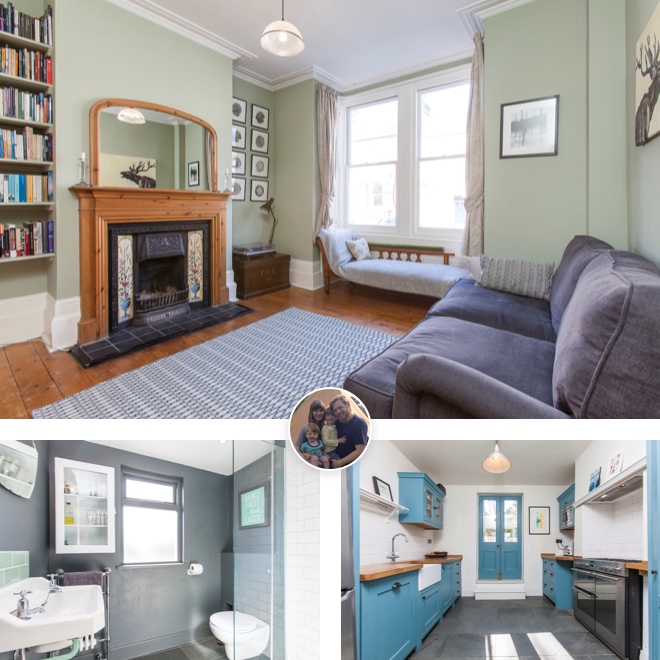 What made you decide to move away?
We wanted to move to Wales. It was driven by a desire to be in the mountains and bring up our children in a cleaner and more wild environment. We had visited the area before but we made the final decision when we took a trip around New Zealand for about 3 or 4 weeks.It solidified our decision that we wanted the children to grow up around mountains and the sea.
We bought our new house in Wales in May 2015. We stayed for about a year in London as I completed a work contract and we also had a second child in that time, then we moved over to our new home. We thought we would have to sell the house right away and we even received an offer on the house. In the end we remortgaged on a buy-to-let mortgage which released some of the finance. We didn't sell straight away and we had tenants in the Clapton for about a year after that.
How did you begin the process of selling your home?
We put the house on the market in July 2017, but with not much success. The housing market was really uncertain after the Brexit decision and the election.
We used the agent who had previously secured a buyer for the house before we decided to rent out the house. There wasn't a huge number of viewings, but we were limited challenge of having the tenants at the house who had young children. After they moved out we did a bit of maintenance work on the house and put it back on the market in September, but there still wasn't much interest.
What made you decide to try Nested?
We were servicing two mortgages and we didn't have any tenants paying rent. I'm self-employed so it meant it was a huge financial strain and we didn't know how much long we could do it for. It happens that my wife has a friend of a friend of Josh at Nested. On one of our visits to London to check on the house, they met up and got chatting and we found out about Nested. We decided to give it a try.
How did you find the process selling with us?
There was always good communication and opportunities to question and work out detail with Anup and Josh, and once offer accepted, we had additional peace of mind that Nested were on the case in terms of pushing sale through.
When we looked at what was happening in the market it became a bit of a no-brainer to be honest. We were realistic about the fact it was two years since we had been on the market, and the estate agents valuations could have been slightly inflated. I got more confidence in the amount when I realised Nested is paying out the money themselves, more like a financial business than a normal estate agent.
How are things in your new home?
It's everything we had hoped for in terms of the space and the environment. We're able to walk out the front door to the mountains and get on a car and be on a beach within 25 minutes. We've maxed out on the benefits and we're really enjoying our new life.