Charlotte used Nested to sell her home when she moved out of London with her family.
Tell us a little about your old home?
It was in Sanderstead and we had moved there in 2014. We had been living in Balham before that, and we moved further out of London for more space for our family.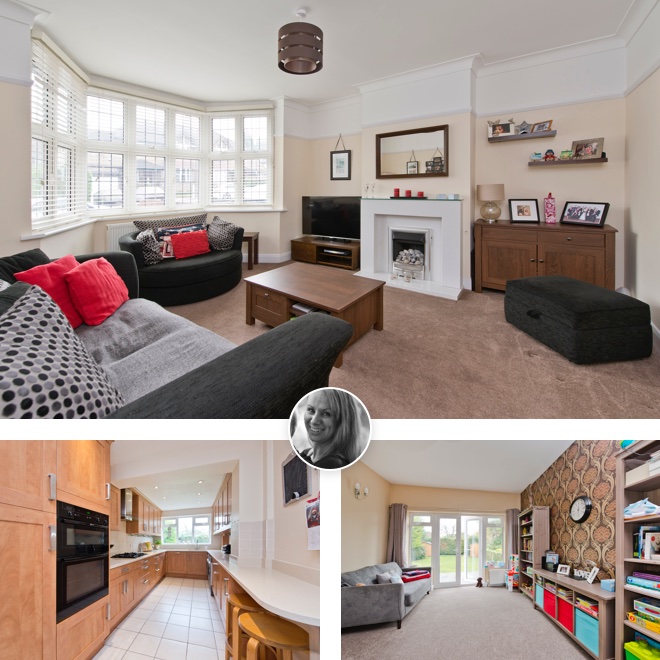 Why did you decide to move?
We moved for schools mainly. We've moved to Oxted where there are really good schools, and we're very close to the high street. It's also convenient for the commute to London. We knew for about a year we needed to move for schools, but we wanted to wait until we really had to move but still have time before applying.
At the start of 2017 we felt the time was right. We saw a place we liked in Oxted and put an offer in, but they turned us down as we didn't have an offer, we weren't even on the market at that time!
How did you start the process of selling?
Decided to use the same agent for buying and selling to keep things simple. It was fairly quiet at first, so we dropped the asking price a little and got three offers after that. However, we were on holiday so things got a bit complicated with the time difference! We accepted the higher offer but that offer fell through, and then we found out that the other buyers had found somewhere else in that time.
After that, there was a slower stream of viewings, so after a few weeks we decided to go back on the market with a new local agent. After we went back on RightMove with the new agent, we had a flurry of new viewings and two more offers straight away. We accepted a chain-free offer and were ready to go ahead, but during this time the house we were looking at in Oxted decided not to sell any more. It was as if every time we made progress, things would change, which was frustrating!
What happened next?
We found the house we ended up buying and we had an offer accepted! But then, our buyer fell through as they weren't able to secure the mortgage they wanted. We were at our wit's end so we accepted a slightly lower price to keep our next house. We were lucky as the people we were buying off hadn't found their next place yet, however our own buyers were keen to move along quite quickly, so the chain was still a bit stressful! After a few months, the people above us found a house to move to, so we told our own buyers.
Then it turned out that our buyer's buyer had pulled out and not said anything. Then our buyer said it was too much stress and they didn't want to sell any more! Honestly, it was such a stressful situation we were ready to give in - the last time we had bought property it had been so much easier and less hassle as there hadn't been a chain. I really wasn't expecting it to be so complicated and to lose so many buyers
What made you decide to try Nested?
A friend had mentioned Nested and my husband started reading up on it. To be honest, I was quite cynical at first and I didn't think it would work. The idea was too good to be true, and I thought the amount we would get from Nested would be really low. Andy came over to see me at the house and he was amazing - he is the nicest person! He answered my extremely long list of questions and explained things in a very matter-of-fact way which helped me understand how it worked.
How did you find the sales process with us?
We were really impressed with all the research you did about our area and other property sale prices, and then the offer you gave us was very fair. We were so worried someone else would offer on the house we wanted and that we would lose it. Nested worked really fast, everything happened so quickly. The photographer that came out was brilliant and the photos were the best we had in the whole process. She put lots of nice touches which came across really well, it made such a difference. Andy was so supportive as well, I really felt I could go to him with any problems and he would give me advice and help with solutions.
How are things in your new home?
Yes, we're really happy to be here, it's so nice. I still get the alerts from RightMove about properties in the area and this was only the second one to come up we would have bought, so we feel really lucky.