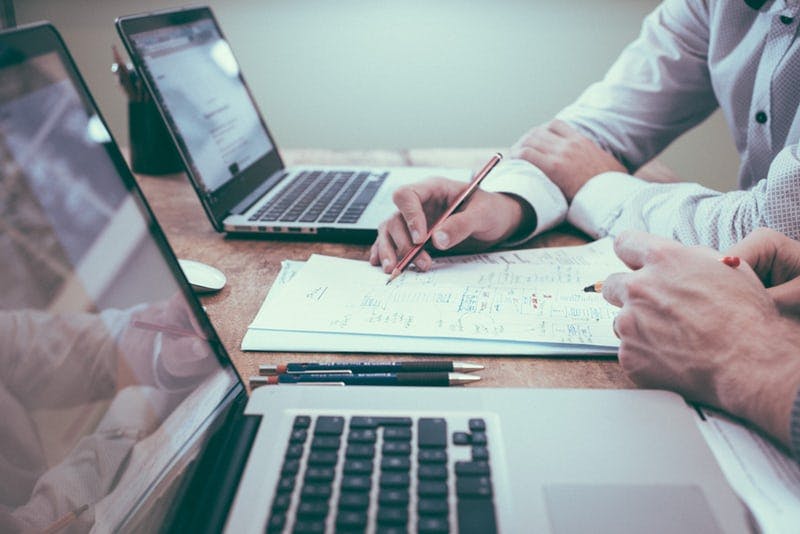 What does a property solicitor do?
Find out why solicitors matter, and how you can find one.

Will @ Nested
Property market insight
Yes, the costs can add up when moving house, but having the right solicitor on your side is worth its weight in gold.
Here's how you can make the legal side of your move run extra smooth.
Do you need a solicitor to buy a house?
Sure, it's tempting to think you can dot the i's and cross the t's on all the legal paperwork, but it's not quite so simple. Your solicitor helps to oversee the legal process of the sale so that ownership is lawfully transferred to you.
It's true that you're not legally required to use a solicitor when buying or selling a home, but these days, it's virtually impossible not to use one. Issues like fraud are increasingly important and require legal oversight, and you'll always need to prove your identity to the Land Registry using the correct procedures.
What is conveyancing?
You'll often hear the words 'solicitor' and 'conveyancer' used interchangeably, and while there is plenty of overlap, they're not quite the same thing.
Think of a conveyancer as a residential property lawyer, or in other words, a solicitor who specialises in the legal side of buying and selling homes.
A 'solicitor', in contrast, covers a wider area of legal practice, including but not limited to commercial, corporate and employment law.
Should I use a solicitor or a conveyancer?
If you think you'll need legal services throughout your lifetime, and not simply for one property transaction, using a solicitor can be advantageous. A benefit of using a solicitor is that you'll build a relationship and potentially, get discounts in the future.
You may be under the impression that solicitors are 'generalists', whose sole time and attention won't be focused on property law, but in reality, most solicitors' firms will have specialists on-hand if you have particular requirements.
However, solicitors are usually more expensive than conveyancers, so if your transaction looks fairly straightforward, you could save money by using the latter.
While conveyancers' area of expertise and training is limited to property law, they can carry out all the legal essentials related to buying a home, from doing the searches to obtaining copies of planning consents. But ultimately, the difference between a solicitor and a conveyancer may matter less than you think. There are experienced conveyancers and inexperienced solicitors — and vice versa — so what really matters is that you get a sense of their previous experience, credentials and capability.
Whether you use a solicitor or conveyancer, it's reassuring to know that both are fully regulated and insured.
How much are solicitors fees for buying a house?
For most properties, you can expect to pay between £500 and £1,500 on solicitors fees, depending on the geographical region, and the scale and complexity of the transaction. The costs can run into the thousands for high-value properties.
Some solicitors will charge a fixed fee, or fee arrangements like a 'no sale, no fee' agreement, and in complicated transactions, some may charge a percentage of the property value.
The overall fees include the legal costs associated with undertaking the work, and what is known as 'disbursements', where the fees originate from third parties, such as bank charges, property searches, Land Registry charges and anti-money laundering checks.
What does a conveyancer do?
So, what do you get for all your hard-earned cash? Here's a breakdown of some of the main services your solicitor or conveyancer provides:
Searches — Your solicitor will carry out checks with the Local Authority and other parties to see if there are any building control or environmental issues you should know about.
Bank transfers — In order to ensure funds reach the right accounts, the solicitor will carry out the transfer, which will incur a bank charge.
Fraud checks — Transferring money can be a risky business, but your solicitor will verify both your identity and the legitimacy of the other parties.
Stamp Duty — Properties bought for over £125,000 in England or Northern Ireland are subject to Stamp Duty; your solicitor can ensure you pay the correct amount.
Land Registry — Your solicitor registers the property with the Land Registry when they obtain the title deeds: a document which shows the chain of ownership of a property.
What searches are required when selling a house?
Your solicitor will undertake numerous searches which can help establish whether there is any good reason not to buy the property.
These include Local Authority searches, which will shed light on any issues to consider in the surrounding area, from conservation area status to tree preservation orders.
Environmental searches can uncover evidence of any toxic substances in the ground beneath a property from past industrial use.
You sometimes have to pay for additional searches if the property is located in an area of potential risk, such as near a landfill site, coal mine or river where flooding may occur.
Your solicitor will also carry out water authority searches, which will locate the source of water for the property, and whether any public water infrastructure exists on the plot.
Land Registry searches help to verify the legal owner of the property you're buying, which is a legal obligation.
There are even searches on 'chancel repair liability', which we can assure you, is even stranger than it sounds. If you're living within the parish of a church built before 1536, you could be liable for the cost of church repairs, though this is admittedly rare.
As you can see, there are lots of potential surprises that can crop up when buying a house, so even if the cost of getting searches done isn't too appealing, it's far better to know in advance if there is any cause for concern rather than buying a home you'll struggle to sell later.
How long does conveyancing take with no chain?
If you're moving into a property as a chain-free buyer, conveyancing can take as little as 4 weeks. But it depends on the type of property you're buying, as leasehold flats tend to take longer than freehold houses.
Also, environmental searches can take longer where there is concern about the land the property sits on. It may be more realistic to factor in at least 6 to 10 weeks for the conveyancing process to run its course.
How to find a good solicitor
Perhaps the quickest way to find a solicitor is to use an online tool, such as The Law Society's official database. This can help you find the nearest solicitors in your area, as well as details of their accreditations.
Your estate agent may also recommend a solicitor. One school of thought is to warn you against this, as the estate agent often gets paid an introduction fee for the referral. However, good estate agents care about their reputation, and you'll have the convenience of not spending extra hours doing research. Even so, it's a smart idea to get a range of quotes so you're not paying over the odds.
When it comes to some things in life, it's better to be safe than sorry. Sure, buying and selling a home isn't the cheapest thing you'll ever do, but getting the professionals on board can save you time and energy in the long-run.
Nested has a fantastic panel of fully accredited conveyancers who are specialists in residential property law. If you'd like more information on our legal partners' fees, just get in touch!
Get the latest property news direct to your inbox.
Nested puts homeowners in control of their sale. Our agents provide you with smarter insights so you achieve the best price for your home on your timeframe. When you've found your new home, you have the power to move chain free, while we take care of your sale. Our buying agent will even negotiate up to 5% saving on your new home, so you get more home for your money.
If you're interested in selling smarter, get in touch today. Nested.com - The modern way to move.
---